Songkran Festival is a vibrant and important celebration in Thailand, and nowhere is it more lively than in the beautiful island of Phuket. If you're planning to be in Phuket during Songkran, you're in for an unforgettable experience. This guide will give you all the information you need to make the most of the festival while staying safe and respecting the cultural significance of the event.
What is Songkran Festival?
Songkran is the Thai New Year, celebrated annually from April 13th to April 15th. The festival is known for its lively water fights, where locals and tourists alike splash water on each other to wash away the old year and welcome in the new. The festival is also a time for family reunions, temple visits, and paying respect to elders.
Cultural and Religious Significance of Songkran in Phuket
In Phuket, Songkran has a special significance due to the island's rich cultural and religious history. The festival is deeply rooted in Theravada Buddhism, and is a time for paying respect to Buddha images, monks, and elders. Many locals also use the festival as an opportunity to make merit by offering food and other donations to temples and monks.
Precautions and Practical Considerations for Celebrating Songkran in Phuket
While Songkran is a fun and festive occasion, it's important to take precautions to stay safe and avoid accidents. With the streets full of people and traffic, it's important to be aware of your surroundings and keep valuables in a waterproof bag. It's also advisable to wear clothes and shoes that you don't mind getting wet, and to protect your eyes with goggles or sunglasses.
Top 3 Locations to Celebrate Songkran in Phuket
Bangla Road: This is one of the liveliest spots for Songkran in Phuket, with music, dancing, and plenty of water fights. It's a popular spot for tourists and locals alike, and the atmosphere is electric.
Patong Beach: This is another popular spot for Songkran celebrations, with water fights and beach parties. With its long stretch of sand and crystal-clear water, it's the perfect place to cool off during the hot festival days.
Phuket Town: For a more traditional Songkran experience, head to Phuket Town. Here you'll find locals paying their respects at temples and engaging in cultural activities, as well as smaller water fights and street food vendors.
Alternatively, if you prefer a quieter Songkran, you can consider visiting some of the lesser-known towns in Phuket such as Kamala, Surin or Rawai. These places offer a more laid-back celebration of Songkran with local villagers and a chance to experience traditional Songkran customs. However, keep in mind that the water throwing and partying may not be as intense as in the major tourist areas.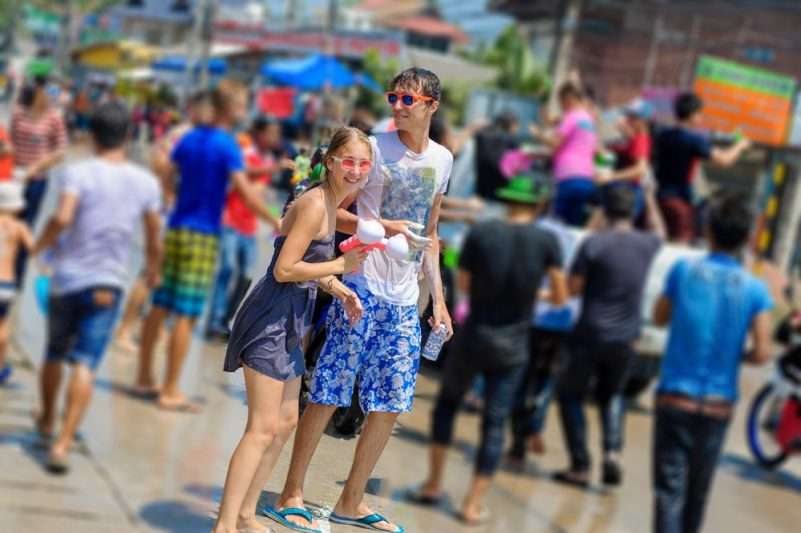 Precautions during Songkran in Phuket
As with any major festival or event, there are some practical considerations to keep in mind during Songkran. Here are a few things to keep in mind while celebrating Songkran in Phuket:
Hotels fill up quickly during Songkran, so be sure to book your accommodations well in advance.
Traffic can be heavy, so allow extra time to get around the island.
Be sure to keep valuables, like phones and cameras, in a waterproof bag or container, as getting wet during Songkran is inevitable.
Wear clothing that is light and dries quickly.
Be prepared to get wet! If you don't want to participate in the water fights, it's best to stay indoors or avoid the main Songkran areas altogether.
Be aware of the risks associated with drinking alcohol during Songkran. Drunk driving and other alcohol-related accidents are a major concern during the festival, so it's best to celebrate responsibly.
Should you celebrate Songkran in Phuket?
While Songkran is undoubtedly one of the biggest and most exciting festivals in Thailand, it's not for everyone. Some people prefer to avoid the crowds, traffic, and water fights altogether, and others simply can't handle the heat and humidity. If you're thinking about celebrating Songkran in Phuket, be prepared for crowds, chaos, and plenty of water. But if you're up for the challenge, you're sure to have a memorable and unforgettable experience.
Conclusion
Songkran is an important festival in Thailand, and celebrating it in Phuket is a unique and unforgettable experience. Whether you're looking to participate in the water fights or simply want to observe the festivities from a distance, there are plenty of ways to experience Songkran in Phuket. So pack your waterproof bag, put on your best water-friendly outfit, and get ready to ring in the Thai New Year in style!